Elite Boxing:
Tyler, you got the fight you finally wanted with Ricky Boylan. There has been a fair amount of back and forth between yourselves on Twitter. More importantly you get a 2nd crack at the English Light-Welter title.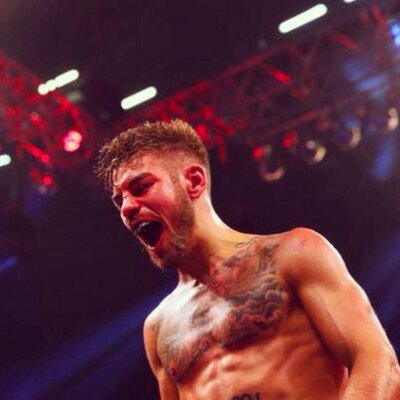 Tyler Goodjohn:
I'm over the moon. The fight has been made for the English title again as you said. As a fighter these big, exciting one's in the big venues are exactly what I want. I don't want these guys that you can walk through, I want proper tests.
He's got an unbeaten record that I'm going to smash to pieces, so yeah, happy days!
EB:
Stylistically how do you feel you will both blend in the ring?
TG:
I think he will come and have a go, he KNOWS he has to come and have a go. The pressure isn't really on me, he's Matchroom's "Golden Boy" really so the stage is set for him and he has to go out there and impress.
For me he's going to come have a go and that will walk right in to my trap. I think a lot of people watched my last fight with Tyrone Nurse and they see me as a bit of a brawler and I come to just fight. But my boxing skills are very underrated.
The last fight with Nurse I went in with a lot of injuries and couldn't do what I wanted to do, I couldn't fight him the way I wanted. You are going to see a few different sides to me in this fight and 100% will you see me walk away with that English title.
EB:
You seem to thrive on being the underdog in fights, you were against Nurse and here with Ricky being the "Golden Boy" as you say. What adjustments will you make in your training with this fight compared to the Nurse one?
TG:
I've made a few adjustments from the Nurse one already. Me and my trainer Peter Sims will be the first one's to tell you that the last camp could not have gone any worse. Me being the pig-headed fighter I am; there was no way I was pulling out of that fight.
I've had to base my training round what I could do, not what I wanted to. This time round everything is going to be spot on, my nutrition is going to be better, everything will be better.
I'm going in to this fight 110%, no excuses and like I say I'm going to win that belt.
It would cap a great year to have fought for the English and then won the English. For a 23 yr old the experience I've picked up has been invaluable.
I fought Tyrone Nurse when no one else would; no one wants to go near that guy. I took the phone call and I stepped up straight away in a heartbeat. I don't duck anyone, to walk away with that English title this year I would be over the moon.
EB:
The Fen Army will be out in full force no doubt, do you have any words for your loyal supporter?
TG:
No doubt! They are 100% behind me, I'm sure every fighter says that they have the best support but they way they've been so loyal and so supportive over the years. They came to Manchester and as soon as this one was announced they were all messaging me, bringing hundreds out again.
I just want to thank them and do them proud.
@PaulReady
@EliteBoxingNet